16+ Best Vacuums For Pet Hair (2022) | Upright, Canister, Cordless..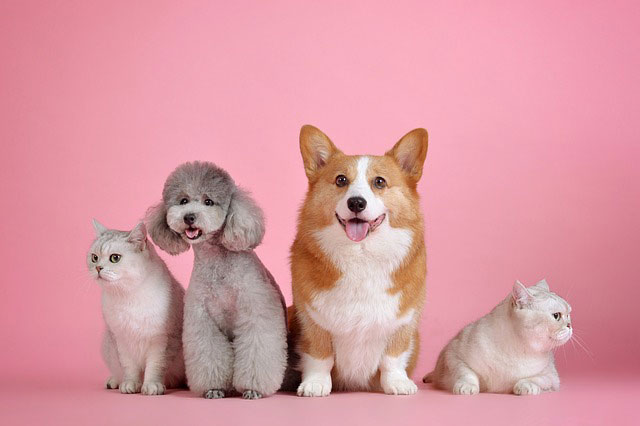 Pets are family; there is no doubt about that! In fact, data suggests that 36.5% of average American households have dogs and 30.4% have cats as pets in 2022.
Our furry little friends bring joy to our lives in so many different ways that it is impossible to mention them all.
However, there is one downside that most dog owners have to struggle with on a daily basis – shedding!
Well, for all the concerned pet parents out there, we've got a solution!
When you are buying a vacuum you have hundreds of models to choose from and narrowing down the field can be a harrowing prospect. We have tested and put in hundreds of hours of blood, sweat, and tears over the past few years in Our Miniwick Cleaning Lab, looking for the best of the breed.
This guide will give you my top 16 choices for the best pet vacuums. Among those, I recommend Shark Truepet NV752 (Upright)/Miele Classic C1 Cat and Dog (Canister) as our top picks for best vacuums for pet hairs.
What is the Best Vacuum for Pet Hairs ?
Anti-Allergen Complete Seal + HEPA filtration.

Pet Power Brush to tackle pet hair.

5 years limited warranty.

5-level height adjustment.

HEPA + Active AirClean filter.

Optimizes suction and run time.

2 years warranty on all parts and labor.

Duo Clean for deep cleaning.

Led lights on the nozzle.

3-Stage Cleaning System & 10X Power-Lifting Suction.

Cleans deeply in efficent rows.

Warranty: 7 years motor, 1 year parts.

100 minutes runtime with powerful suction.

Infrared-sensor for evading obstacles.

Light weight and Versatile.


Affordable, Lightweight and Easily Maneuverable.

2.9 quarts Dust cup capacity.

fade-free lithium-ion battery.

Messy-free Dust Bag Replacement.

Fingertip controls and easy maneuverability.

Easily trasition from hard floors to carpets.
Best Upright Vacuum for Pet Hairs 2022
Best Pick #1, Best Upright
Fingertip Controls.

Powerful suction.

1.5 dry quarts Dust Cup Capacity.

Hard Floor Hero, TruePet Mini Motorized Brush, Pet Multi-Tool, Crevice Tool

LED lights on the handle & nozzle

Anti Allergen Complete Seal + Hepa filtration traps 99.9%.
This 3 in 1 vacuum is all you need if you are searching for a vacuum that delivers top notch cleaning. It can operate in 3 ways, as an upright vacuum, a lift away pod and a canister.
This is one of the few vacuums to offer 3 functionalities, giving it an edge over other vacuums on the market.
It lets you clean all kind of places, including hard to reach places, under furniture and sofas too. Buying this vacuum will give you peace of mind because it is also very easy to use and maintain.
LED Lights On The Wand:
The LED lights on the wand and on the bottom front side are quite beneficial as they allow you to clean areas that are dark, such as corners and parts of the bed.
Suction Power:
With a motor producing 1200W of power, its suction capacity is great and it picks everything from dust to dirt to pet hair without any trouble.
Provides 3 Functionalities:
By pressing a simple button you can easily detach the canister from the wand and the motor head to turn them both into rolling machines as both of them have wheels.
You can also turn it into a lift away pod and clean taller places, furniture roofs, walls and even ceilings as it would reduce the overall weight when you turn it into a lift away pod.
With a product that offers Fingertip controls, HEPA filter, Hard Floor Hero, etc. there is very little that is left to chance. Besides, Shark Rotator Powered Lift-Away TruePet is not nearly as loud as other cleaners that scare your pets.
With this one vacuum, you will not need to invest into anything else as it allows you to clean all corners.
Budget Upright
Powerful pet hair pick up with triple action brush roll.
Scatter free technology.
Swivel steering.
Catches all the dirt in one pass.
Dirt cup capacity 1.0 liter.
Lightweight design.
Edge to edge cleaning.
This vacuum offers multi cyclonic suction and its unique brushes do the job well. They are easy to maneuver as they are very light and easy to handle. With a cord length of 25', you can clean large rooms without having to stay close to an outlet. You can roam around with the vacuum and even clean the corners of your rooms.
One Pass Technology And Multi Cyclonic Suction Power: Dirt can get stuck into rugs and carpets making it difficult to remove, but not when you have Bissell 1831.
It has unique brushes that go deep into the carpets and pull out even the most stubborn of particles. This feature reduces the number of passes you've to make to clean a corner, reducing the effort required to do the job.
While it can suck in hard and stuck particles, it can also trap dust air and keep it inside the filter.
However, many vacuums do that. But, the special thing about this vacuum is its multi cyclonic suction that ensures no dust or dirt particles are left behind. And once trapped, the dirt and dust can't escape escape from the vacuum.
 Multi-Level Filtration: There's a multi level filtration system that traps pet hair, and both small and large particles. Also, the filter bag is detachable and can be easily washed.
 Multi Surface Cleaning: Many vacuum cleaners often fail to impress when it comes to cleaning multiple surfaces, but not this one.
You can adjust from 5 height options and clean. It reaches a maximum height of 32 feet, which is very high. Other than that, it works well on wood floors, tiles, upholstery and carpets too.
Best Pick #2, Best in Canister
6 Speed settings for pets and floors.

Cleans all carpeting types.

Active AirClean Filters traps 99.9% of lung damaging dust & pet odor.

Powerful, Compact and Light weight.

Suitable for all flooring types.

5 level height adjustment to extract pet hair from carpets.
Our #2 pick is a best vacuum cleaner manufactured by Miele, because of its performance, suction power and design. Let's find out why we chose Miele Complete C1 to be our #2 pick.
Sealed Filtration System that contains the dust inside: When it comes to vacuum filtration systems, sucking up dirt, debris and pet hairs isn't enough, a vacuum cleaner should contain it too and shouldn't allow dust particles to escape into the air and affect the health of the inhabitants.
This is exactly what Miele C1 does. Its filtration system is safely sealed into a unit which traps the dirt it picks and contains it there until the bag is emptied.
There's a CleanAir 3D Efficiency Dustbag attached to it which is made up of many layers. All the layers are composed of a material which is electrostatically charged.
The job of this bag is to automatically self-lock and open itself when emptying the bag making it easy to do the job. The pre-motor protection filter in the vacuum ensures that dirt doesn't build up in the motor.
Apart from that, there's also a super clean air filter that traps dust floating in the air.
The vacuum has a SBB 300-3 parquet brush which is extremely soft yet very efficient in cleaning floors, tiles and stones too.
Dirt and hair often get stuck into rugs and carpets. C1's brushes scrape off hard to clean this mess and leaves your rugs and carpet as good as new. That's not all, it is also equipped with the SBD-285-3, a brush that is ideal to clean off rugs with velvet threads.
Super Suction power that can be adjusted to 6 different settings: It can devour 140 cubic feet per minute thanks to its 2000W suction power. With a suction power that high, it is obvious that this one contains a special motor that's also very durable.
The suction power can be adjusted to 6 different settings. In case of too much dirt and mess on the floor, keep it on max and you'll be amazed how efficiently it takes up even the tiniest bits of dirt and hair.
Contrary to the popular belief, the machine works silently even when it is on the max mode.
Wind Cord With A Foot Pedal: Cords can be difficult to maintain but the Miele C1's cord can be winded by simply pushing a foot on the pedal.
There's a separate compartment given in the vacuum where the entire cord is winded and kept safe. Thanks to the foot pedal winding ability, you don't have to wind the cord manually.
This piece of beauty is amazing in every aspect when it comes to cleaning. It simplifies taking care of pet hair, dust and other debris efficiently.
It is also very easy to use and even beginners can use it. While it is more pricey than several other vacuums on the market, it's definitely worth a pick.
Moderately Priced Canister
6 speed suction control for different surfaces.
Lightweight and offers maximum maneuverability.
7 year warranty on motor and 1 year on parts and labor.
Combination Floorhead, Dusting Brush, Upholstery Tool, Crevice Tool.
The wide cleaning radius of 29.5 feet sucks in most of the pet hair in one go.
combination floor head ideal for hard floors and low pile carpets.
The Miele Classic C1 is a excellent machine that does its job very efficiently. One of the major reasons why it is so high on our list is its moderate price as it is one of the few vacuums that offer such great service at such rate.
High end vacuums are way too costly and far from the reach of an ordinary person. However, such is not the case with Shark rotator.
Miele's unique AirClean System ensures maximum filtration consisting of a genuine Miele FilterBag, motor protection filter and AirClean exhaust filter. The room air is cleaner after vacuuming than before.
The vacuum cleans off hair and other particles quickly and in one sweep. You also do not have to worry about the dust particles leaking out thanks to the system being sealed.
Lightweight and Smooth Maneuverability: This lightweight vacuum offers smooth maneuverability both around furniture and hard to reach places.
Other than this, it is one of the few machines that can easily clean under the floor and other such areas. With this powerful vacuum by your side no corner would come undone.
6 Speed Suction Control: The suction power can be adjusted to the surface being cleaned with the 6  speed setting Rotary Dial located on the vacuum cleaner. The usage of the Dial enables optimal cleaning.
Combination Floorhead:  combination floor head is good for cleaning both hard floor and low-pile carpet. A foot switch allows you to switch from hard floor to carpeting with ease. Includes a metal sole plate for easy gliding across surfaces and rubberized wheels to prevent scratches on flooring.
See Also:
best cordless vacuum for pet hairs 2022
1.
Dyson V8 Animal Cord Free Vacuum, Iron/Titanium
Best in Cordless
Dyson is a brand that needs no introduction as it reigns supreme on many levels. Dyson's products may be pricey but for all the right reasons. Users love Dyson vacuums because of the high-end cleaning they offer.
When it comes to handling and maintenance, Dyson pet hair vacuum cleaners are among the best. However, how can we determine which Dyson is best for pet hair? We spent hour studying different Dyson products, and decided to pick the Dyson V8 as the #1 vacuum from the company for pet hair.
Dyson V8 Features and Benefits
Pros
Bagless.
2 year warranty.
Mini tools can be attached to carry out a perfect cleaning job.
Cordless.
Ideal For Pet hair cleaning.
Cons
The dirt bin isn't very big.
expensive.
40 Minute Suction Time:
Although the product runs for 7 minutes only when operated on max mode to carry out a high-end cleaning, the standard mode option can let you operate the vacuum for 40 minutes straight. You can switch between the two modes and stick to the one that you see fit. Tip: Use the max mode only when you want to clean thick mediums or particles that are large. Max mode is ideal to clean off carpets.
 HEPA Filtration:
There are patented radial cyclones installed into the vacuum that carry out top notch cleaning. The filtration system makes sure that no particle is left behind and everything enters the vacuum in one go. The number of radial cyclones present are 15 which are arranged in two tiers so as to deliver top notch filtration. The job of these radial cyclones is to create a centrifugal force so strong that dust and particles which are at a distance also gets sucked in. It also comes with HEPA filtration that allows the machine to trap 99% of dust and dirt particles.
The Direct Drive Cleaner Head:
The direct drive cleaner head of Dyson V8 is 150% more powerful than others and offer greater brush and scraping power. The brush bar on the outside is meant to clean the carpet areas as the nylon brush bristles are soft enough to go deep into the carpet threads and suck off dirt and debris. Other than that, the carbon filter filaments clean the hard floors like a charm. It is wide enough to provide end to end suction and leaves nothing behind.
A Handheld Vacuum:
You can also convert it into a handheld device to reach narrow places.
If you like cordless vacuums then this is your best bet. It cleans like a pro and is no less than a superhero when it comes to cleaning. However, it is expensive.
best hand held vacuum for pet hairs 2022
1.
Bissell Pet Hair Eraser Handheld Vacuum, Corded, 33A1
Best in Corded Handheld
This is a handheld vacuum and is a best fit for people who want a quick job. With a cord of 16 feet, you can easily reach around the room. There's a contour nozzle attached to its mouth which ensures that no kind of dirt or pet hair is left behind. The suction power is amazing and you don't have to struggle on carpets or upholstery.
Bissell Handheld Vacuum Features and Benefits
Pros
Lightweight.
Designed to clean multi floors.
Good suction power.
affordable
Cons
Not suitable for larger homes because it doesn't cover much ground area in one go.
Nozzles:
Comes with two special nozzles that make cleaning all the more easy. Both the nozzles are meant to enhance the suction power and pull in hardest of debris and dirt which is stuck to carpets, floors or sofas.
Easily Mobility:
Handheld vacuums can become difficult to move around with if they're heavy, however, such is not the case with Bissell Handheld vacuum cleaner. It is a lightweight vacuum that can easily be carried around.
 Clean It All:
The advantage of this vacuum unlike others is that you can clean every kind of medium with it. You can clean floors, sofas, carpets, tiles and the curtains in your home as it is very easy to handle due to its lightweight.
Final words
Choosing one vacuum in 2022 from this list of amazing pet vacuums can be difficult as they all have unique features.
Make sure to pick one according to your own needs. If you're looking for an all rounder cleaner, then go for the Shark Navigator Lift Away or  Miele's C1 cat and dog.
If you're looking for a best vacuum that has many features and also affordable, then we'd recommend you bissell cleanview or Ovente Bagless Cyclonic Vacuum(Budget Pick)
If you're looking for something very durable that can last long and is also a juggernaut when it comes to do heavy cleaning then go for Tineco A10 Master as it is the best cordless vacuum for pet hair. Choose wisely!