1
14+ Best Vacuum for Hardwood Floors and Pet Hair (2022)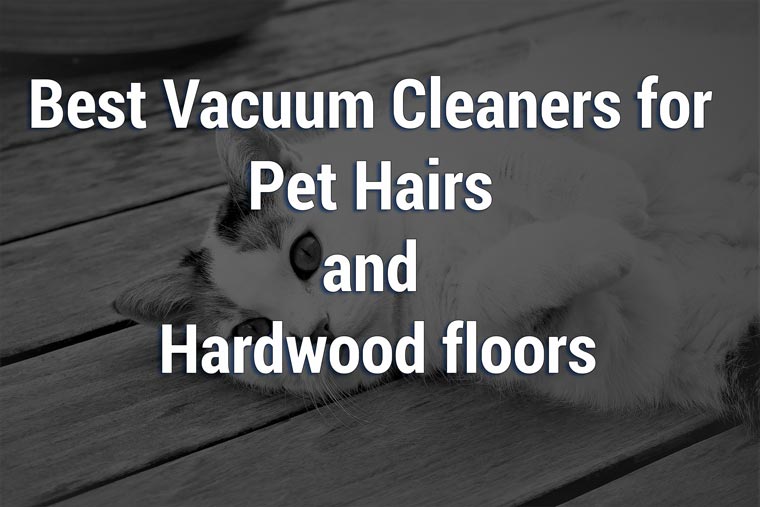 There are a huge number of options to pick from when it comes to vacuum cleaners. Step out on the market, and you will be bombarded by different models from different companies, all claiming to be the best.
Our team spent hundreds of hours researching for the best vacuums on the market and believe us when we say, most of them really sucked at "sucking out pet hair", no pun intended.
After thorough research and testing, we think miele c2 hard floor as the best vacuum for pet hair on hardwood floors.
Top 14 vacuum for hardwood floors and pets 2022
1.
Miele Complete C2 Hard Floor Canister Vacuum Cleaner
Best Overall (Canister)
Miele is a brand that puts a lot of thought in the looks as well as the performance of all its products. Let's find out why we chose Miele Complete C2 Hard Floor to be on #1 on this list for best vacuum for pet hair and hardwood floors.
20 Year Average life Span

Comes with Combination Rug, Floor Tool, Parquet Twister XL Floor Brush, Crevice Tool, Dusting Brush + Upholstery Tool.

Extremely lightweight with powerful suction.

6 Different Speed Settings for Drapes, floors and more.

Miele's Powerful 1200 Watt Motor

19.5 pounds item weight
Cleans Floors And Rugs Smoothly: The SBB 300-3 parquet brush is a soft brush made of bristles that are ideal to clean floors and leave no debris and pet hair, and by floors we means, laminate floors, stone, tiles etc. Other than that, it can also clean rugs and suck out stuck particles and dust in a way which most of the vacuums fail to do. This is made possible with the help of SBD-285-3, basically velvet thread rugs that increase the cleaner's efficiency.
Top Notch Filtration System: The filtration system works on 3-staged system. There's a 4.7 quarts synthetic cloth GN bag which makes sure not a single dot is left behind and all dirt and particles are carefully sucked in. It is common for vacuums to malfunction if a lot of thick dirt accumulates in them. Such is not the case with the Miele thanks to its pre-motor protection filter that protects the motor against unwanted dirt buildup. Other than that, there's also a super clean air filter that captures dust from air as well.
Commendable Suction power: This piece of beauty can take in 140 cubic feet of air flow per minute. That's the type of suction power that only a heavy motor can perform. You can adjust the suction power to 6 different suction settings and even on max, it perform silently. We suggest you use max suction power for hard floor floors, moderate speed when cleaning the carpet, and low speed when cleaning the drapes or other lighter materials.
1200w Vortex Motor: The Miele has a 1200w motor that provides a high-end performance for longer time. While it runs on more power as compared to other vacuum motors, still, it doesn't make noise while operating, which is commendable.
Wind Cord With A Foot Pedal: With a single push on the foot pedal you can easily wind up the cord into a cord storage compartment given inside the vacuum. This saves you from the hassle of winding the cord manually.
This corded vacuum is perfect for people who want a vacuum which is in their budget and works like a charm, taking care of pet hair, dust and other debris efficiently.
Using it is simple and it also eliminates the stress of cleaning behind-doorways and hard to reach places in the house.
Good upright vacuum for pet hair on hardwood floors 2022
2.
Shark Navigator Lift-Away Professional(NV352)
Budget Pick in Upright
The Shark Navigator vacuum performs 2-in-1 functionalities unlike other vacuums, and that too, in such low price. You can use it as an upright vacuum or simply as a portable cleaner.
You can switch between cleaning carpets or hardwood floors by simple turning on the options that are discussed below. This is the best shark vacuum for pets and hardwood floors .
Easy Lift Away Canister Vacuum

Anti-Allergen Complete Seal + HEPA filter, traps 99.9% of dust

Powerful, Light Weight and Portable(12.5 pounds)

Swivel Steering for maneuvering around furniture

1.2 dry quarts Dust Cup Capacity
Lift-Away Feature: The lift away feature of this product is a unique feature that you won't find in most of the vacuum cleaners. This feature lets you separate the canister from its head with a push of a button and use it separately to clean places which are hard to reach. By enabling this feature you can turn your upright vacuum into a dust away canister and easily clean places like drapes, furniture, stairs, upholstery and ceilings as well. When you separate the vacuum and turn it into a canister, it becomes less heavier so that you can easily carry it. That's the beauty of this product which makes it stand out among other vacuum cleaners.
HEPA Filtration: The HEPA filtration system and the anti-allergen complete seal technology is able to hold 99.9% dust particles and other allergens that are found in carpets, hardwood floors and even in rugs.
Brush Roll: While this vacuum cleaners is effective at cleaning bare floors, you can also make your carpets look as good as new with zero particles, dust, pet hair and other debris by simply turning on the Power Brush Roll button. This brush roll is attached at the bottom of the cleaner which is ideal for carpet cleaning.
Other Features: With a 30 feet long cord, you can easily clean around your room. The product works on never-loses-suction-technology which is ideal for good suction power and can pull off the most stubborn of dirt particles which are stuck in carpets and on floors.
Also, this technology makes sure that no pet hair are left behind. The swivel steering system ensures a smooth handling system for its users to carry out the best cleaning.
This vacuum cleaner has left everyone in awe because of the price it is being sold at and the number of commendable functions and top notch cleaning service it provides. If you are looking for a miraculous vacuum cleaner which is also cheaper, then this is your best bet.
best cordless stick vacuum for pet hair on hardwood floors
3.
Dyson V8 Absolute Cord Free Vacuum, Iron/Titanium
Also Good
Dyson is a company that has been building vacuum models for years and their products are a sheer beauty in terms of handling, usage and performance. They may be costly but for all the right reasons.
We chose the Dyson V8 Absolute Cord Free Vacuum, Iron/Titanium, because of the top notch performance it provides.
light Weight with HEPA filter
Bagless & cordless
Mini tools can be attached to carry out a perfect cleaning job.
Overall look & appearance is exceptional
2 year warranty.
Price is the highest of all the products compared
The dirt bin isn't very big.
Edge To Edge Cleaning:
Cleaner Head: This product tops our list because of many reasons. Let's start with getting familiar with its cleaner head. The direct drive cleaner head on this product when compared to other products, proved to possess 150% more brush power.
The Direct Head Cleaner contains a brush bar on the outside which goes deep into the carpet areas and since the brush bristles are composed of hard nylon, the dirt is pulled in effectively.
As far as hardwood floors are concerned, there are carbon filter filaments to make sure that the stains and dust are thoroughly cleaned off. The cleaner head with the brush is broad enough to collect dirt, hair
HEPA Filtration:
The patented 2 radial cyclones of the vacuum make sure that the dust is trapped and retained from any medium the vacuum is used on. dyson v8 whole machine HEPA filtration dyson v8 whole machine HEPA filtration These cyclones are 15 in number and arranged in two tiers to provide maximum filtration capability that rotates and generates a centrifugal force strong enough to suck dirt in. The HEPA filtration is an amazing feature and is said to suck in almost 99.9% of particles including dust. As for its powering capabilities, you can rest assure that the Dyson digital motor V8 makes sure that everything works at maximum potential, including the filtration system.
Suction Time:
The product runs on Lithium-ion batteries that give it a suction power for up to 40 minutes when run in standard mode and 7 minutes when run on max mode. There's a switch given that lets you switch between either of the modes. The max mode is used when you want to clean thick particles or when something's stuck in your carpet.
Clean The Ceiling:
Thanks to its lighter weight, you can easily lift the vacuum up and reach for ceiling areas and clean it as well.
Turn It To A Handheld Vacuum:
What makes Dyson stand out amongst others? The ability to turn its devices into handheld vacuums. Yes, you can convert them into handheld devices so that you could reach into places which are normally hard to clean.
Other Features:
Thanks to its dirt ejector functionality you don't have to get messy to eject the dirt, just a push of a button and your vacuum is empty. You can also easily dock the vacuum to save space.
This is without a doubt one of the best cordless vacuums for hardwood floors and pet hair as it offers a 40 minute top notch dust and particle sucking capabilities including pet hair.
The filtration system that makes sure that nothing is left behind and everything is captured in a single pass. This is a great vacuum and a perfect fit for people who want to exert least effort but want maximum results.
4.
Shark Duo Clean Rocket Corded Ultralight Upright Vacuum, Charcoal Gray (HV382)
If you find Dyson vacuum cleaners expensive, then you can turn to this Shark Duo Clean upright vacuum which is extremely light but can do some heavy work when it comes to cleaning.
Triple Way Cleaning System.
Comes with accessories (dusting brush, crevice tool, upholstery tool, wand, wall mounting device)
LED Lights.
Foot pedal to wind up cord.
Doesn't come with a HEPA filter.
Triple Particle Cleaning: There are many rocket series vacuums that are amazing when it comes to cleaning dust and debris, but this vacuum cleaner is the best among all the rocket series because of the introduction of the triple particle cleaning feature.
With this feature, you will be able to clean all kind of dirt and debris, including particles that are stuck on your carpet.
It works on a three-way functionality as the brush is designed in a specific manner. The center part of the brush contains a soft brush roll which sucks in larger particles. There's also a bristle brush underneath that to take care of dust and debris that's stuck on the flooring. Moreover, pet hair are also not a problem for this vacuum cleaner. What more can you ask for?
Bin Capacity: Whether you have a bigger home or smaller one, this vacuum is ideal for both. Its dirt bin can easily store around 1 dry quart of dirt which is almost 0.25 gallons.
This means that you can clean 5 to 6 rooms in a single go. The bind can also be detached and easily cleaned if need be.
Suction Options: You can choose from two suction options. The first suction setting can be used to deal with bare floors and rugs to suck in any kind of dirt or particles. The second sucking option lets you operate on full motor power and sucks in with more force so that large particles that are stuck in a medium can easily get suck in.
This is undoubtedly one of the most versatile vacuum cleaners ever because with this you can clean ledges, windows, carpets, floors, cabinets, roofs, fans and even your car. A vacuum cleaner doing this much amount of work for a moderate price is indeed a good catch.
best canister vacuum for pet hair on hardwood floors.
4.
Ovente ST2620O Bagless Canister Cyclonic Vacuum
Affordable pick #2
It may have a smaller size but it outperforms vacuums bigger in size when it comes to cleaning.
Ovente's ST 2620 is a vacuum that operates on HEPA filtration and makes sure not a single bit of dust or particle is left on the floor or on the carpet.
With the combination of cleaning brushes such as the crevice tool, upholstery tool, brush tool, cleaning becomes easy and fun.
This vacuum can clean furniture, drapes, floors, rugs, carpets and whatnot. If you own a pet and are frustrated to find hair everywhere on the floor, bring home Ovente ST 2620 and say goodbye to your cleaning stress.
Lightweight.
Powerful suction.
Comes with HEPA filter.
Multi level filtration.
Cleans 99.9% dust and allergens.
Not suitable for plush carpets
Cyclonic Technology For Top Notch Cleaning: This technology uses a power of 1400w and provides high-end suction power to the vacuum. The cyclone technology is ideal for people who have pets. Pets shed hair on carpets, floors, sofas and several other places. Thanks to the cyclone technology, you can easily pick up pet hair and other kind of dirt from carpets, rugs and floors too.
Multi-Level Filtration: The vacuum uses HEPA filtration system that cleans almost 99.9% of particles which are as small as 0.3 in diameter and are floating in the air. This size is 300 times smaller than the size of an air, so you can imagine its suction power and the way its filtration works. The HEPA filter knows how to suck in smaller and bigger particles with accuracy leaving behind a smooth, dirt free floor and carpet.
Tools For Every Type Of Cleaning: What good is a vacuum if it cleans only the floors? The Ovente vacuum comes with tools such as sofa/pet brush, crevice brush and nozzle, a floor brush which works for both hardwood and carpets. It also comes with a telescopic wand to clean hard to reach places.
Easy Maintenance: There is a LED light attached on the vacuum that indicates whether the dirt bag is full or not, so that you could empty the contents of the bag before it is full just to avoid messing up the vacuum. Other than that, cleaning the vacuum is also very easy.
If you are in search of a vacuum that cleans off pet hair and other dirt particles from various mediums in a low budget then you don't need to go anywhere else because Ovente's ST 2620 is the one for you.
HEPA system, LED indication, easy to maintain, cleans dirt from carpets, floors, ceiling and drapes. What more could you ask for?
best robot vacuum for hardwood floors and pet hair 2022.
5.
iRobot Roomba 690 Robot Vacuum
For people who want to have fun while cleaning the house, the iRobot Roomba 690 can be a best option.
It may look like a small piece of machinery but you'll be amazed seeing what it can pull off. It devours dirt and pet hair as if they're cereal.
Very easy to maintain and keep, you can keep this little genie under your bed or in your closet wherever you see fit because it is only 3.6 inches tall.
Pros
Self charging capability.
Schedule cleaning time.
Small in size therefore easy to carry.
Cons
Can't clean at taller places such as stairs.
3 Way Cleaning On The Push Of A Button: Agitation, brushing and suction are the three principles this vacuum understands.This vacuum is more like a genie than a vacuum, with just a push of a button you can make it go to places and clean.No matter if you are concerned about the regular hair shedding of your pet, accumulated dirt on carpets or floors, or the dust in the air, the iRobot can take care of all three, hence, 3 way cleaning genie.
In addition to this, there's also a spinning brush on its side that ensures that the edges and walls are cleaned nicely.
Compact Size: Thank to its compact size, the iRobot can slide under beds, furniture and any similar sort of places that require cleaning. You won't have to bend or stretch unlike with other vacuums. Instead, sit back and operate the iRobot as you will.
Self Charging: The Roomba 690 has the tendency to dock itself and begin charging when it's not in use. This means that you won't have to pick it up and run towards outlets or connect wires when it is running out of charge.
Virtual Wall Technology: You must be wondering how to control it? Well, it's quite easy and magical should we say. The virtual wall technology in the Roomba 690 directs it to clean specific rooms only.
If you don't want to walk behind your vacuum and have it cleaned automatically then say bye to your previous boring vacuum and bring home the iRobot 690. With the 3 way cleaning system, no place with pet hair or dirt will be left uncleaned.

What to choose?
There can be no one answer to this as all the vacuums on this list are great and you must pick one keeping your needs in mind.
Each vacuum comes with its own benefits, and you should consider what you prefer the most. If you want thorough hardwood and pet hair cleaning, then choose our first pick Miele Complete C2 Hard Floor Canister Vacuum.
If you're looking for a powerful machine that is also durable, then Tineco A10 Master can be a good option, its a cordless vacuum which is best for hardwood floor and pet hairs.
A more affordable option would be the Shark Navigator Lift-Away Professional Vacuum cleaner or Ovente (Canister). Nonetheless, all the options are good and you must pick keeping your own requirements in mind.